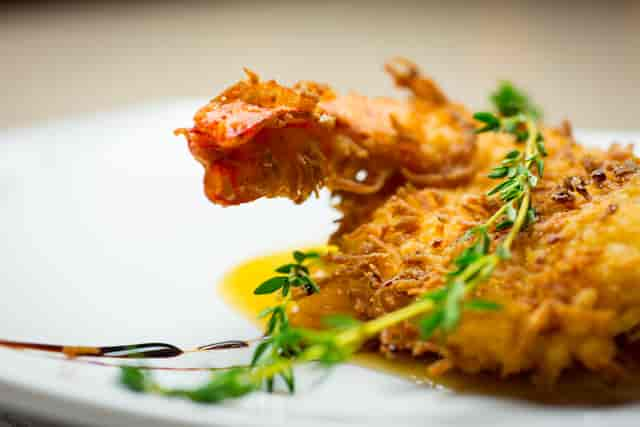 Gabe's Downtown
Louisiana Bistro and Catering Company
A Destination
Presenting the very best of true Louisiana fare, together with the comfortable atmosphere of family and friends. Gabe's Downtown offers all customers an opportunity to connect, experience, and taste culinary excellence. Gabe's signature flavor, born from an upbringing inside his grandfather's kitchen, and refined inside the heart of some of the finest kitchens in New Orleans. Remember, as always, at Gabe's Downtown - Fat equals flavor!
PURCHASE A GIFT CARD TODAY
NOTE: Gift Cards will be received by email within 72 hours. Please contact collette@gabesdowntown.com if you have any concerns.
About Us
Gabe's Downtown is a classic Louisiana Bistro with a casual atmosphere. It was born November 14th, 2006 by two Louisiana natives, Gabe and Tami Toups. Our mission is to provide guests with complete satisfaction. We achieve this with our staff being knowledgeable and educated about all our products, serving the best food in West Georgia using the freshest ingredients with progressive preparation, and providing quality service in a professional atmosphere.

Gabe's Downtown offers a full service bar serving specialty martinis, draft and bottle beer, and a competitive wine list. The menu is extensive for this fifteen table bistro offering a wide array of seafood, steak, chicken, along with specialty soups and salads. Our staff will take the time to guide you through our menu and drink list to create your perfect dining experience.

Gabe's Downtown also hosts monthly wine dinners and cooking classes. We are opened most holidays featuring a specialty, reservation only menu. We also cater our delicious food and impeccable service anywhere in Georgia.

Gabe and Tami strive for you to feel their passion for food through every bite. They want you to experience life as they did growing up-enjoying the company of family and good friends over a delicious meal. Gabe's Downtown is a restaurant where every customer arrives as a guest and leaves as family.
OUR LOCATIONS
Whether in the heart of downtown Douglasville or Villa Rica, both locations offers you access to an expansive bar, comfortable seating, and services by a friendly customer focused.
Gabe and Tami Toups
Tami was born and raised in Metairie, Louisiana. While attending school at Louisiana State University she began working as a hostess at a local restaurant. This job quickly revealed her passion for the industry and led her to quickly change her major to Hotel, Restaurant, and Tourism at The University of New Orleans. Attracted to the fine dining atmosphere of Charley G's Seafood Grill, she quickly moved from Hostess to catering coordinator, and then to Front House Manager. 

Gabe was born and raised in Lafayette, Louisiana. He quickly developed a passion for cooking, and learned family recipes in his grandfather's restaurant, which would become the foundation for many dishes served at the restaurant today. Gabe began working for Master Chef Gilbert Decourt from France while in high school, and then after graduation moved to New Orleans. While attending Delgado school, Gabe became a Sous Chef at the very prestigious Metro Bistro located in New Orleans, and by 23 had risen to become the Executive Chef. Later he transitioned to become the Executive Chef of Broussards; an ultra fine dining restaurant in the heart of New Orleans. 

After Tami and Gabe were married, they realized the need to move closer to family and left Louisiana in 2002. In November of 2006 their dream of owning their own restaurant was realized when Gabe's Downtown was opened in Villa Rica, Georgia. After many years of hard work and sacrifices, another goal was reached in 2015; Gabe's Downtown Douglasville was opened. Tami and Gabe have always strived for excellence in their business as wells as in raising their 3 beautiful children. Whether through tough times in the economy, or working hard to please a difficult customer, both Tami and Gabe have kept their dedication to amazing food, a great atmosphere, and a welcoming dining experience. 

So with this, welcome to Gabe's Downtown, where fat equals flavor!
COVID-19 HOURS
LUNCH
Tuesday - Friday
11:00am - 2:00pm
Saturday
11:00am - 2:00pm brunch
DINNER
Tuesday - Thursday
5:00pm - 8:00pm
Friday - Saturday
5:00pm - 8:00pm
Villa Rica Hours
COVID-19 HOURS
LUNCH
Tuesday - Friday
11:00am - 2:00pm
Saturday
11:00am - 2:00pm brunch
DINNER
Tuesday - Thursday
5:00pm - 8:00pm
Friday - Saturday
5:00pm - 8:00pm
Both locations closed Sunday - Monday
MEDIA INQUIRIES & PUBLIC RELATIONS
(404)398-4935
info@gabesdowntown.com